Can I Make More Money with an IT Certification?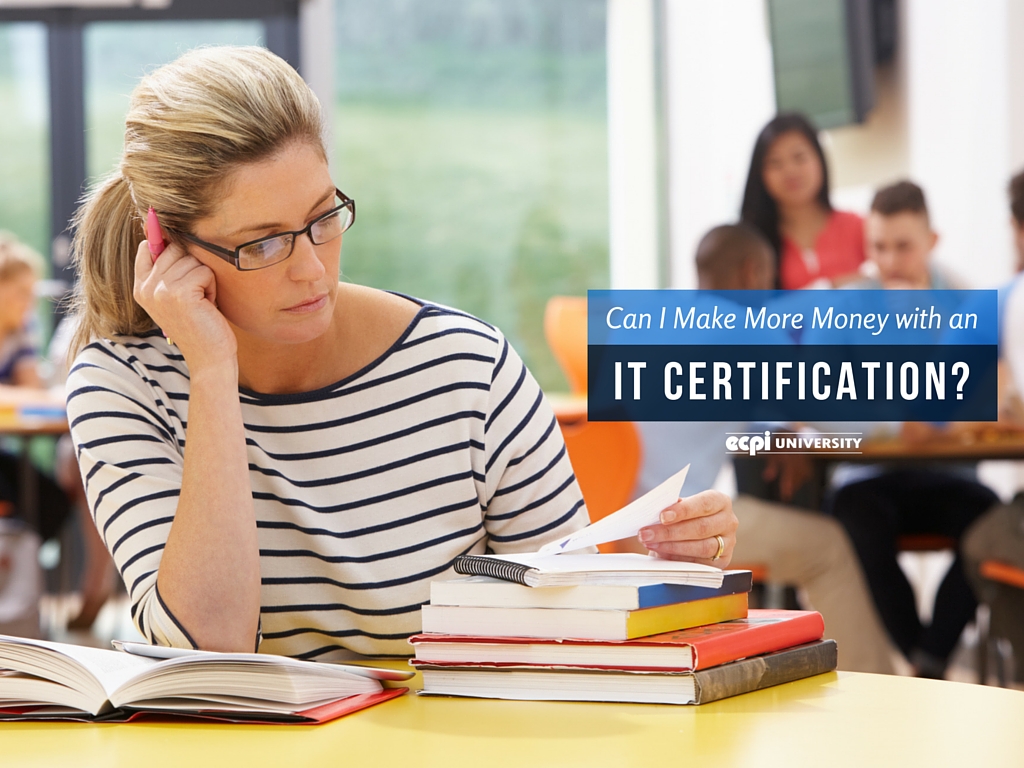 You navigated through undergraduate school, and are working diligently in a technology company in hopes of rising in the ranks. You are doing…okay…financially, but you are also seeking more responsibility at work knowing more job responsibility usually means increased income. A fast path to a stronger financial future is through Information Technology (IT) certifications. In a relatively short time, you could attend school while working, get certified in targeted and highly marketable skills, and rise in your career.
Stats, Stat!
The National Center for Educational Statistics (NCES) reports that, for 2012 (the most recently available date), of the nearly four million credentials awarded, sub-baccalaureate credentials among all U.S. institutions numbered 2,010,835, with nearly a million of those coming from less-than-one-year certificates and another half million from certificates requiring a year or more. Compare this with the number of bachelor's degrees awarded: 1,792,163. Certificates have clearly overtaken traditional undergraduate degrees.
More certifications do not automatically translate into more income. Yet the growth of IT jobs in general seems to indicate that certificate holders realize the fastest route to higher pay is with intensive, focused certificates. And you need not take our word for it; the Bureau of Labor Statistics (BLS) published a report aptly entitled, "Certificates: A Fast Track to Careers."
The BLS found that about 28,000 certificates went to computer and information sciences in 2010-2011. More, the BLS noted that people with IT certifications often were not working in their field (essentially letting the certifications go to waste), so the field was ripe for those who did use their IT certificates in their field. To quote the BLS,
"Computer and information services had the smallest proportion of certificate holders working in their field, but those workers enjoyed the best payoff for doing so: They earned 115 percent more than those who did not."
Why Get Certified?
Ferreting out the financial gains of having IT certifications may not require the macroscopic view the BLS offers. CompTIA, a non-profit trade group for IT professionals and IT channel businesses, reported in February, 2016 that a dismal nine percent of IT hiring managers did not see any gap between IT skills their company needed and the IT skills new employees have. This means a truly alarming 91 percent of new hires did not have the skills needed. A quick answer to this skills gap is IT certification. Areas most needing skills improvement, says CompTia, were:
IT Support
Information Security
Programming, Development and Engineering
Software Testing and Quality Assurance
Imagine you and another candidate are nervously sitting in a job interview with one of those IT managers who see 91 percent of candidates as unprepared for the jobs available. You both hold undergraduate degrees in software development, let's say. You, though, also hold an IT certification in network virtualization, storage management, and ethical hacking. While your competitor is sweating it out, you sit coolly aware that you have a competitive edge.
Other reasons to pursue certification: 
Your professional distinction as a professional in your field
Bolstering your career options
Deepening your education in your field in minimal time and low cost
Specializing in a specific aspect of your field (similar to a concentration or minor)
Top IT Certifications
Knowing IT certifications give you a head start on other job candidates, and reading that the BLS cites IT certifications as offering the best payoffs, which IT certifications should you consider? Take a typical listing from a superior program:
Windows Network Engineer 2012
Network Virtualization, Storage Management, and Ethical Hacking
Manufacturing Technician Training
ETA Fiber Optics
CompTIA A+, Net+, Security+ Program
Cisco Certified Network Professional
Cisco Certified Network Associate
The BLS views the network engineer as a "Computer Network Architect. The BLS says the median annual income for May, 2014 was $98,430. This is against the average of all occupations, $35,540, for the same period.
Schedule Your IT Certification
ECPI University's Professional Development Center can provide you the fast, trustworthy certification you are seeking. Concentrating on a very narrow subject at great depth, these offerings provide you a small number of courses administered on a schedule convenient to full-time employment. Enroll in one of our IT certification courses and get on the path to working at a higher level, for higher pay. Contact ECPI University's Professional Development Center today to learn more.
DISCLAIMER – ECPI University makes no claim, warranty, or guarantee as to actual employability or earning potential to current, past or future students or graduates of any educational program we offer. The ECPI University website is published for informational purposes only. Every effort is made to ensure the accuracy of information contained on the ECPI.edu domain; however, no warranty of accuracy is made. No contractual rights, either expressed or implied, are created by its content.